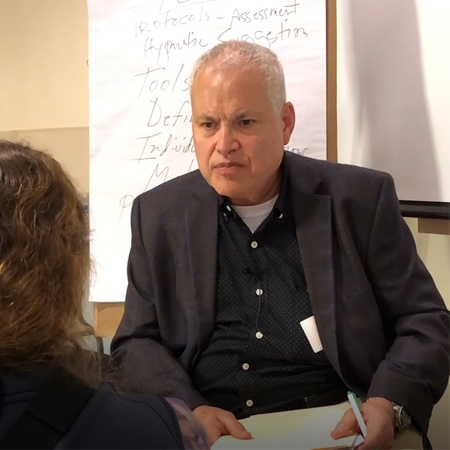 Hello! If you need to lose weight, you have arrived at the right place. This is Dr. Bruce Eimer. As a licensed psychologist and professional hypnotherapist, I have been helping people reduce unwanted pounds for over thirty years. I designed my Weight Reduction Hypnosis Program based on scientific principles and feedback from my many clients over the years.
Healthy weight loss is your gain in wellness.
As a person with Type 2 Diabetes, I know the importance of eating right. But I am also familiar with the challenges of saying "NO" to your favorite high carbohydrate and high sugar foods.
As a professional hypnotist, I understand that your willpower does not stand a chance against your imagination. Therefore, the more you think about NOT eating the foods you crave, the more you think about wanting the foods you are missing! This fuels your desire for these foods. And DESIRE feeds your IMAGINATION!
Here is the crux of the problem. Your Unconscious Mind controls your desires, your imagination, and all your habits. Your habits are the things you do every day automatically without thinking. So, when your Unconscious Mind which controls all your habits, continues to get the message that you still desire those foods you crave, it imagines you eating them. And your Unconscious does not distinguish between what you imagine doing and what you do.
IMAGINATION IS THE LANGUAGE OF THE UNCONSCIOUS.
Your Unconscious Mind does NOT understand the words SHOULD NOT. When you think "I should NOT eat that", your Unconscious Mind does not hear the NOT. It just hears SHOULD. Therefore, to beat your cravings for unhealthy foods you want to avoid, you need to reprogram your mind to routinely imagine that you desire designated healthier foods and that you eat them regularly.
My Weight Reduction Hypnosis Program is designed to make it easy for you to replace your unhealthy food cravings with healthy eating habits. My program is effective because the hypnotic suggestions I prepare for you are in the precise language your Unconscious understands. I give you these individualized suggestions while you are "in hypnosis" and when you are "out of hypnosis" (in a slightly different form). Your Unconscious recognizes these suggestions as so fitting and familiar that it feels as if you gave these suggestions to yourself. This makes acting on them natural and easy.
Don't make another excuse. Call Dr. Bruce. That's me. Call 561-377-1039 or click here to schedule your FREE 15-minute no obligation phone consultation with me.
This is how my method works:
When we initially talk on the phone, I will ask you to tell me about your weight problem and what you want to accomplish. I will evaluate your motivation to change your eating habits and reduce your weight. And I will answer any questions you have. If you feel I can help you and I feel I can help you, we then schedule your first 90-minute online session.
In your first online session, I will conduct a thorough evaluation and with your input, formulate your individualized weight reduction hypnosis treatment plan.
We will also do clinical hypnosis in your first online session. The hypnotic weight reduction suggestions I will give you will be specifically designed for you. Please go to my FAQS page, to get answers to frequently asked questions about hypnosis.
Time permitting in your first hypnosis session, you will be taught an easy to do individualized self-hypnosis exercise.
NOTE. With my program, changing your eating habits is effortless. You will not need to keep a food diary unless you want to. If you feel keeping a journal is helpful, you can do so.
Your second session will also be for 90-minutes. At the beginning of your second session, I will ask you to tell me how things have been going. We will address any "rough spots". We will correct any mistakes you made.
THERE IS NO FAILURE, ONLY MISTAKES. MISTAKES CAN BE CORRECTED.
During the clinical hypnosis portion of your second session, I will give both the Conscious and Unconscious Parts of your mind powerful hypnotic suggestions to resolve any of your doubts and concerns. The knowledge and tools you need to cope with stress as a person who eats healthier and refuses to eat unhealthy foods will be fixed in place in your Unconscious Mind.
The hypnotic suggestions I will give you in this session will reinforce and continue the process of positive behavior change.
During this session, I will also check on how you have been doing with your self-hypnosis exercise. If we did not have time to teach you self-hypnosis during your first session, we will do it now.
If you have encountered significant resistance to changing your eating habits, we will examine the nature of this resistance and gently and effectively address it. If indicated, we will go through a process together called Rapid Hypnoanalysis. Click here for a clear explanation of Rapid Hypnoanalysis.
After your second session, I will ask you to communicate with me (usually by text) to let me know how you are doing. If you encounter a problem, there will be no charge for a brief phone conversation to correct the problem. If we need to schedule another online session, we will do so. Depending on what you need, these sessions can be 50 minutes or 90 minutes.
Experience how much better you feel after you reduce your unwanted pounds.
Remember; healthy weight loss is your gain in wellness.
Call 561-377-1039 now to schedule your FREE 15-minute phone consultation to discuss how I can help you lose weight the healthy and easy way. Or click here to schedule your free consultation.